Description
InGwest. Ceramic Heat Sensitive Color Changing Coffee Mug. Novelty Heat Sensitive Mug With Funny Smile.
Make your mornings happier with Sweat Heat Sensitive Changing Color Coffee Mug by InGwest!
Don't like to wake up in the morning? Don't want to go to school or to work? There is no mood in the morning? I understand you very well! Life begins only after your first Mug of coffee. And we will help to make it more colorful! How? Easy!
Take our Heat Sensitive Color Changing Coffee Mug and pour your regular hot coffee, tea, hot milk or hot chocolate!
Our Heat Sensitive Mug begins to change of temperature and with a sad smiley at the black background turns into a bright smiley face on the beautiful blue background!
There is nothing worse than to sit down and start drinking cold coffee! But with our Heat Sensitive Mug you will not have such problems! If mug is black and sad smiley, then a drink in the Cup is cold, if the blue coffee mug and smiles at you, it means the water is hot!
Why do You need a special coffee mug? 4 reasons!
The unique design of coffee mugs, you will be special!
This coffee mug will cheer you up every day;
Thanks Heat Sensitive you will be able to determine when your coffee is cold;
Coffee is a special drink. It requires a special individual mug – your coffee mug.
Instructions:
Magic printing will appear once you put the liquid over 45 °C
HAND WASH ONLY Not microwave or dishwasher safe.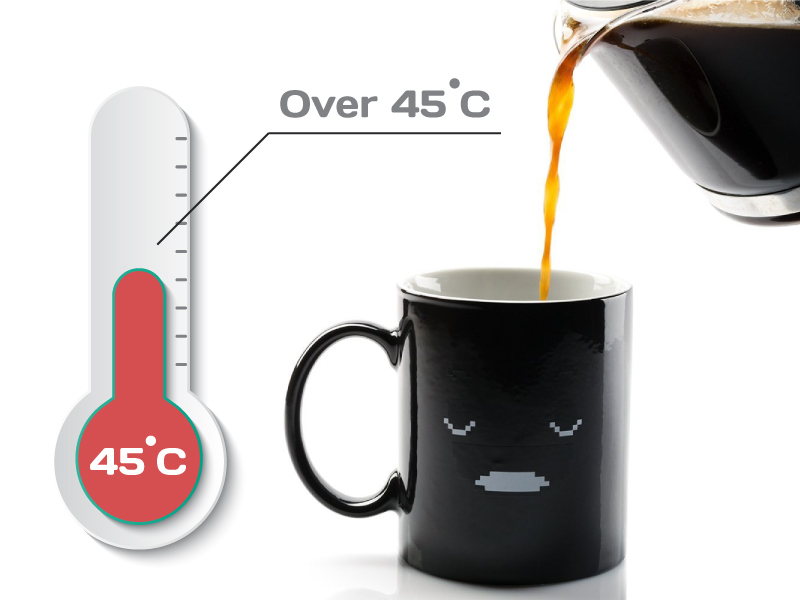 ________________________________________________________________________
Product Specifications:
Capacity: 11 oz.
Materials: Ceramic.
Dimensions: approx. 3.15″ diameter x 3.75″ tall.
Color: Black|Blue.
If you are looking for COFFEE MUG, changing color cup, color changing coffee mug, heat sensitive mug then you found it! ORDER NOW color changing mug and encourage friends and acquaintances!
Wake up with Heat Sensitive Changing Color Mug!